History
The Group of Companies LKB was founded in 1997 in Kharkov, Ukraine. Our history started with the supplies of raw materials for manufacturing of solvent based paints and varnishes.
Since the Company's mission – improving the quality of life by means of top-quality raw materials supplying - we must develop our business day by day / constantly.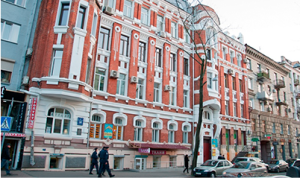 That is why from year to year we are searching for the new opportunities and creating long-term mutually rewarding co-projects with our numerous and reliable partners. Due to professional and wise approach LKB Group have has achieved the leading position in the Ukrainian market of raw materials for solvent based coatings production with basic products: alkyd resins, solvents, pentaerythritol, phthalic anhydride, gum rosin. Establishment of Interdisp-LKB, Ltd in 2005 for promotion of Rohm and Haas's brands in Ukraine was a new essential stage of our development. We started to supply a range of products for water-based paints: binders Primal TM, Maincote TM, Finndisp TM, Fastrack TM, pigment dispersants Orotan TM, thickeners and rheology modifiers Acrysol TM, in-can preservatives and biocides Rocima TM,Kathon TM, special polymers Fastrack TM, Evoque TM.
In collaboration with Perstorp (Sweden) we introduced to the Ukrainian market coalescing agents NX TM. Suddeutsche Emulsions Chemie GmbH (Germany) provided for our needs wax additives Lubranil TM, Sudranol TM, Wulkonil TM, Micronil TM.
In 2008 the Company launched a new business line - Additives For Plastics. We started cooperation with Honeywell (PE waxes, polyolefins).
In a couple of years in 2010 LKB Group signed a new distribution agreement with Rohm and Haas this time in the area of additives for PVC products. That was a time of rapid development of the mentioned business line.
In 2010 LKB Group made an agreement on distribution with Anadolu Mikrinize (Turkey). That was a strategic decision, which resulted in companie's becoming one of the biggest suppliers of fine calcium carbonate ANDCARB TM for Ukrainian producers of coatings and plastics.
In 2011 after we accepted an offer from The Dow Company to promote their preservatives for cosmetic and household products we entered the market of raw material for HI&I. Since then we significantly expanded our business and nowadays we succesfully supply surfactants, preservatives, fatty acids and fatty alcohols, emollients, enzymes, fragrances and colorants, and other additives. In the cosmetic market we effectively cooperate with DOW, Enaspol, KLK, Genencor, Iberchem, and other producers of high-quality materials.
Since 2013 the Group of Companies LKB is a partner of Huntsman Pigments in Ukraine. We continue expanding our product line a via wide range of different pigments.
The year 2015 was marked with forging of close links with SE Tylose GmbH and BlueStar Silicones, which introduced us new ideas and trends and expanded our horizons.
Today The Group of Companies LKB is a strong team of professionals, one of the biggest distributors in Ukraine of chemical raw material with an up-market range of products.
Regardless of time the main aims of the Company are unalterable:
meeting the needs of our customers in high-grade raw materials in the best possible most comfortable and effective way;
realisation of the most favourable conditions for the development of the brands presented by us Company;
maintaining a high level of the Company's management performance to suit the present market requirements;
getting and holding a leading position in chosen market.
The Company cares for the environment, supports charities, is socially active and, thus, involved in process of reforms in Ukraine, in pursuance of European values.